12" x 36" Custom Panoramic Jigsaw Puzzle Prints
Pick one to get started:
1000 piece puzzle sets.
or choose from our categorized designs to start personalizing:
Prints and Custom Panoramic Puzzles. You'll Definitely Love This on Your Wall!
Do you have a panoramic photo or image that you would like made into a personalized 1000-piece puzzle? Well, you have found the right place! At CreateJigsawPuzzles.com you can make fully interlocking panoramic jigsaw puzzles that 12 by 36 inches. Turn your favorite long panoramic photos into beautiful prints with just a few clicks of your mouse on our website, from traditional and square formats to poster prints to breathtaking panoramic puzzles. All you have to do is to submit your panoramic photos to us and we make works of art for you to hang on your wall at home or at work! Take a new panorama picture, or even use one you've already taken on your phone, and upload to our website, adding custom messages of your choice, preview your puzzle design and place your order online. If you like it on the screen, you'll love it on the wall! We'll turn your wide-view photo into a full-colored customized puzzle with glossy finishing on 2mm thick laminated cardboard, delivered to you within as low as 5 business days. This 1000-piece puzzle comes inside a poly bag as default with additional upgrade options of standard or custom box packaging with your matching puzzle design. Our puzzles are available to order in bulk and no minimum order quantity required.
As a board game manufacturer with more than 30 years of experience in this industry, you can trust us to deliver high quality photo puzzles at large or small scale. We print jigsaw puzzles using cutting edge printing and production technology for high-quality products.
If you have a technical issue, ordering question or want advice for your project, you can reach our customer service team online, by email or by phone. No matter what your question or concern is, we'll be happy to assist you as quickly as we can.
If you aren't looking for a personalized panoramic puzzle, check out our line-up of other customizable puzzles .
Sample puzzle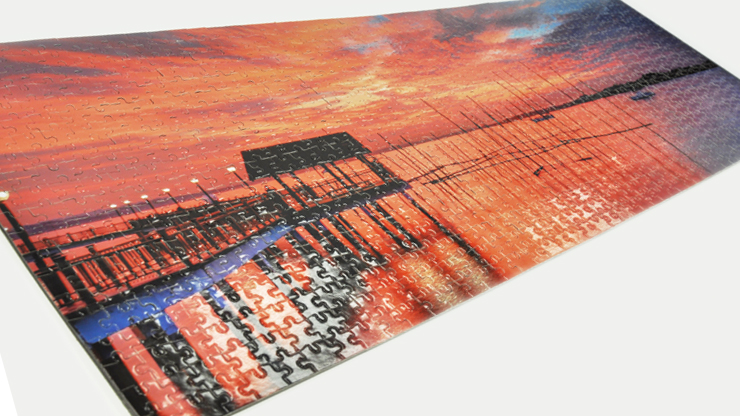 See video of a sample puzzle
Personalized panoramic puzzle sets include:
Note: Please allow 4 days production time for this item
Panoramic jigsaw puzzle made up of 1,000 pieces made from cardboard with lamination with a glossy finish in size 36" x 12" (914mm x 310mm)
Unassembled puzzle pieces are placed in a choice of poly bag, standard gift box or a personalized gift box printed with your photo and design on lid
Standard or personalized box with size 8.5" x 5" x 1.5" (250mm x 187.2mm x 46mm)
We use thick puzzle cardboard (1.5mm)
See more:
Puzzle types:
Puzzle piece:
Blanks:
Puzzle size:
Accessories: