3.5" x 5" Small Custom Invitation Puzzles
Pick one to get started:
24 piece puzzle sets.
3.5x5 inch wooden puzzle options:
Regular and irregular cuts available:
or choose from our categorized designs to start personalizing:
Get Ready for Cost-Effective Invitations or Corporate Promotional Products!
Thinking of cost-effective and memorable invitations or promotional products? Try our 5 x 3.5 inches customized small jigsaw puzzles. They are perfect for any corporate events as giveaway items or even for your big day invitations!
Our rectangular-shaped, 24-piece puzzle cards can be customized with photos or images and text. Depending on your design, select from a variety of different styles for your jigsaw cards such as two-sided, magnetic or vertical or horizontal. No matter you are making for an invitation or business purposes, it is no doubt to deliver the messages to your recipients memorably by assembling the puzzle. Whats important is the low cost of our mini puzzle which is comparable with just a normal invitation cards for your event, or an ordinary giveaway item for corporate.
Custom your unique puzzle on our online maker by just a few steps. We use the highest quality materials, including durable cardboard that is laminated with a glossy finish. Each puzzle is 1 mm thick and includes an envelope for each. We print your order in full color and ship to your location within a week of placing the order. If you any have special requirements, just contact our support team to discuss.
Sample puzzle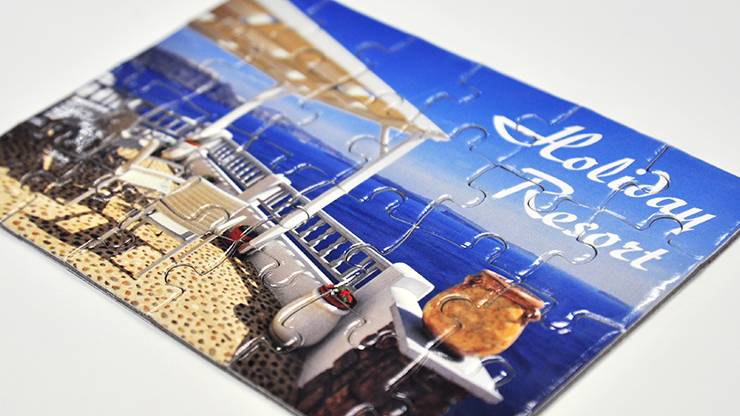 See video of a sample invitation puzzle