Personalized Wedding Guest Book Puzzle
Quantity
Price
1
$149.99
$149.99
$149.99
$149.99
$149.99
$149.99
$149.99
$149.99
$149.99
$149.99
$149.99
$149.99
$149.99
$149.99
2-12
$119.99
$119.99
$119.99
$119.99
$119.99
$119.99
$119.99
$119.99
$119.99
$119.99
$119.99
$119.99
$119.99
$119.99
13-29
$89.99
$89.99
$89.99
$89.99
$89.99
$89.99
$89.99
$89.99
$89.99
$89.99
$89.99
$89.99
$89.99
$89.99
30-49
$74.99
$74.99
$74.99
$74.99
$74.99
$74.99
$74.99
$74.99
$74.99
$74.99
$74.99
$74.99
$74.99
$74.99
50-99
$65.99
$65.99
$65.99
$65.99
$65.99
$65.99
$65.99
$65.99
$65.99
$65.99
$65.99
$65.99
$65.99
$65.99
100-249
$59.99
$59.99
$59.99
$59.99
$59.99
$59.99
$59.99
$59.99
$59.99
$59.99
$59.99
$59.99
$59.99
$59.99
250-499
$49.99
$49.99
$49.99
$49.99
$49.99
$49.99
$49.99
$49.99
$49.99
$49.99
$49.99
$49.99
$49.99
$49.99
500-999
$39.99
$39.99
$39.99
$39.99
$39.99
$39.99
$39.99
$39.99
$39.99
$39.99
$39.99
$39.99
$39.99
$39.99
1000+
$29.99
$29.99
$29.99
$29.99
$29.99
$29.99
$29.99
$29.99
$29.99
$29.99
$29.99
$29.99
$29.99
$29.99
Bulk discount applies to same or different prints
See delivery options »
Specifications:
Shape: Rectangular
Number of pieces:14 different number of pieces as follows with different puzzle die-cuts [see here]


70 pieces
71 pieces
72 pieces
73 pieces
75 pieces
77 pieces
79 pieces

80 pieces
81 pieces
83 pieces
85 pieces
87 pieces
89 pieces
90 pieces

Dimensions: 19.75" X 28" (502mm X 711mm)
The total thickness is 3.6mm (0.14 inches)

Front: 10 pt (250gm) premium card board 4/0c with UV coating
Middle layer: 3mm thick PMMA
Bottom: 10 pt (250gsm) premium card board 1/0C with aqueous varnish

Material: plastic (PMMA)
Laser cutting
Packaging options (per set):
Box size: 12.40" x 12.12" x 1.29" (315mm x 308mm x 33mm)
Delivery packaging: puzzle box individually shrink-wrapped and put into delivery packaging box.
No minimum order required. Buy 1 set for

$149.99
Image file tips:
Color Mode: RGB or CMYK for color images, Grayscale for black and white
Images accepted: JPG, BMP, PNG, GIF, TIFF
(Need help on file conversions?)
Image resolution: Minimum 150 dpi
Bleeding:Please allow 3-6mm (approx 18-36 pixels based on a 150dpi image) each side for bleeding. Read more about image uploads here.
---
Video tutorial:
See how easy it is to use our puzzlemaker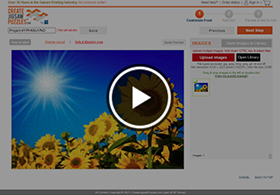 Description:
Our wedding guest book puzzle sized 19.75 x 28 inch with varying number of puzzle pieces from 70 to 90, 14 different options for your choice. 3 mm thick plastic puzzle pieces with 12.4 x 12 inch puzzle box. Wedding guests can sign their name and add message&nbsp,on the back of puzzle pieces numbered for easy&nbsp,assembling. Your wedding photo is printed using full color on premium card board layer on plastic material with UV coating.
Product code:
CJP143426-02
Sample puzzle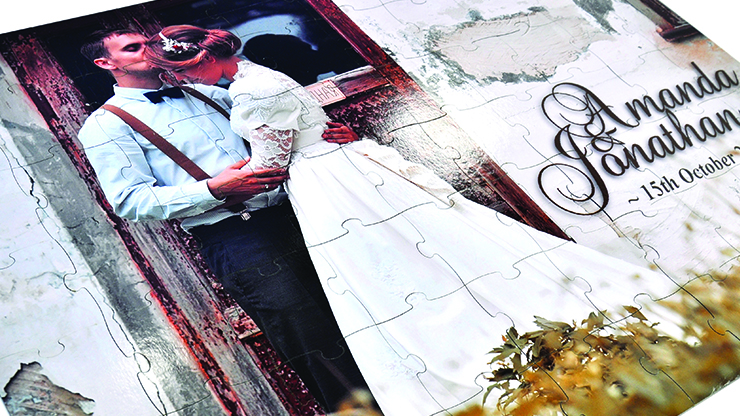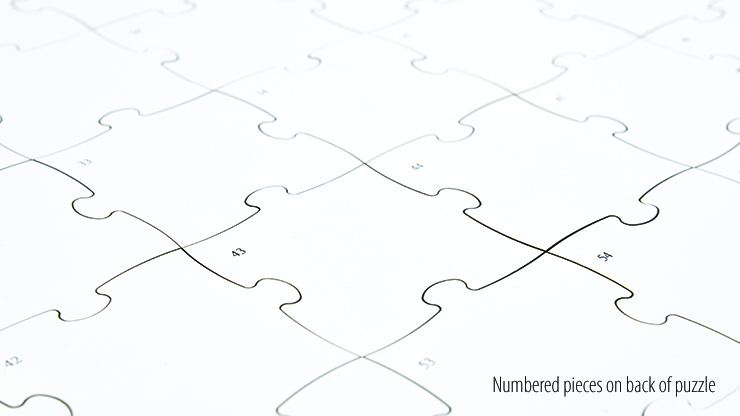 Video sample
---
Need help?
We are a world reknown board game printing company with many capabilities. If you have any further customization needs such as tailor-made die cut molds for different outer-shape and number of pieces, different box shapes, hot stamping with foil, glow in the dark, lenticular puzzles, please contact our experienced sales and technical team. If you would like us to help you on setting up your product completely, we have just the right service for you. See details.
---
Customer testimonial
"This year we produced a custom puzzle for all 4,000+ of our employees as part of an Employee Appreciation event. We were exceptionally satisfied by the responsiveness and professionalism of CreateJigsawPuzzles. All 4,000 units arrived on time and were of the the highest quality. I highly recommend trusting CreateJigsawPuzzles for your corporate needs. We will order again as the need arises."
R Boyce, San Ramon United States of America (USA)
See related items:
Wedding & Anniversary
(Total: 2 items)